About Fish Creek Animal Hospital
We are very proud of our exceptional veterinary team here at Fish Creek Veterinary Hospital. Below, you can see more about our amazing veterinarian!
APPOINTMENT
Get to know Dr. Kevin Wheeler, DVM
Dr. Kevin Wheeler
Veterinarian and Owner
Dr. Kevin Wheeler developed a love for animals at an early age as he grew up taking care of everything from cats and dogs to cows and horses at his family farm. He received his Doctor of Veterinary Medicine degree from Oklahoma State University College of Veterinary Medicine.
A native of Katy, Texas, he chose to move closer to home, family, and the farm upon graduation. Dr. Wheeler practiced small animal medicine in the Houston area before pursuing his lifelong dream of starting his own animal hospital. Dr. Wheeler's professional interests include soft tissue surgery, preventive medicine, internal medicine, and client education.
He can usually be found at the farm with family in his spare time, living up to his cowboy roots. A resident of the nearby Woodforest neighborhood, Dr. Wheeler shares his home with his wife, Erin, their newborn son, Tripp, and their two dogs, Reagan and Millie. He is excited to serve his local community!
Dr. Melissa Pawlowski
Veterinarian
Dr. Melissa Pawlowski grew up in Spring, Tx. As a little girl, she developed a deep bond with animals. She lived in College Station, Tx for over eight years completing her Bachelor of Science in Biomedical Sciences and her Doctor of Veterinary Medicine degrees from Texas A&M University. She feels blessed to be able to fulfill what she considers her life's calling to be able to
help both pets and people. Her special interests include internal medicine, dentistry, radiology,and ultrasound. Also, she enjoys helping to maintain good quality of life for older pets.Dr. Pawlowski currently lives in Montgomery, Tx. She likes to spend time with her fiancé,Dale, her family, and friends, as well as her own pack of dogs- Daisy, Shyanne, Jasper, Sophie,and Bailey. She is looking forward to sharing her passion and knowledge with others and being a part of the Fish Creek team!
Heather Blackburn
Veterinary Technician
My name is Heather Marie Blackburn, I have been in the veterinary field as a Veterinary Technician for over 20 years. I worked at large, small, and exotic practices. I also spent several years working at a cat-only practice here in the Houston area. I graduated from Texas A&M University with a Bachelor of Science in Marine Biology. I moved to Lafayette, LA shortly after graduating and worked for National Marine Fisheries for a few years, before returning to be a vet tech. I moved back to Texas a few years ago, after starting a new life with one of my classmates from Port Isabel High School, Arthur Cochrum III. We share our home with AC and our 5 pets! We spend our spare time watching AC play football and our Aggies on Saturday! We plan on getting our own piece of the Texas Coast one day, so we can play on the beach and fish every day!
Tabitha Mitchell
Veterinary Technician
Hey all, I am Tabitha and I was born and raised in Montgomery, TX. I started with Fish Creek Animal Hospital shortly after they opened! I have been working in the vet field for 10+ years and couldn't imagine doing anything else! When not at work I enjoy spending time with my kids and 4 mini schnauzers.
Douglas Radabaugh
Veterinary Technician
Hi y'all my name is Douglas Radabaugh. I have been a veterinary technician for 16 years with 18 years experience in the veterinary industry. Animals and medicine have always been a passion of mine since I was young. When I'm not tending to your flock I enjoy time outdoors with my two children and our two pets Kitana and Jasper.
Kristin Starks
Veterinary Technician
Hey y'all! My name is Kristin and I'm one of the techs here at Fish Creek Animal Hospital! I've only been here since March 2023, but I've been in the veterinary field since 2013. I graduated from Sam Houston State University in 2018 where I double majored in Criminal Justice/Victim's Studies, and minored in Sociology – but working with animals is where my passion really lies. My free time is mostly spent reading, hanging out with my Shih Tzu Sadie and taking her everywhere I can, or watching reality tv. I really look forward to meeting you all and taking the best care that I can for you and your fur babies!
Tayler Cascio
Veterinary Technician
Hi! My name is Tayler. I was born & raised in the small town of Hollister, Ca. I got my bachelors degree in Biology at Chico State. I started volunteering at a local animal clinic during college & then moved my way up to vet technician. I moved to Texas in the summer of 2018. I graduated from the LSC Tomball Veterinary Technology program in Spring of 2022. I passed my VTNE in Dec 2022 and officially became a Licensed Veterinary Technician. I am also fear-free certified. I've been in the veterinary field for about 5 1/2 years now. I can't imagine being in any other field. I do like dogs but I am a cat lover at heart. In my free time, I like spending time at home with my husband Dyson & our son Walker. We have two dogs, a cat, & a turtle.
Hunter Munsinger
Veterinary Assistant
Hey y'all, My name is Hunter, I started at Fish Creek in February 2023, before starting here I shadowed and worked as a kennel technician for two years. I'm currently working towards getting my Veterinary Technician License,and plan to dig deeper into Veterinary Medicine in the future. During high school, I was an active member in FFA and was continuously raising animals. In my spare time, I love to spend time at the beach with my boyfriend and our two dogs Bandit and Bella!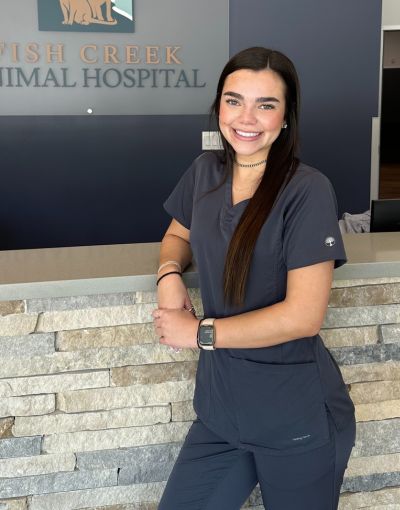 Kam Zarate
Veterinary Assistant
Hey y'all! My name is Kam, I am a freshman in college and working towards my degree in Animal Science. I was an active member in  FFA and showed goats and steers all throughout High school.  I joined Fish Creek in the summer of 2023. I have learned so much about veterinary medicine and am excited to continue to grow my knowledge in this field. Between work and school I like to spend my spare time with my many animals, family and going to the gym.
Frances Aaron
Receptionist
Hi, I'm Frances Aaron, born and raised in Waller, Texas. I am a mother and grandmother as well as a pet parent. My husband and I live in Plantersville, where we have chickens and pigs. We also have a Chihuahua named Selma. I have been in the veterinary field for about 15 years and have enjoyed every minute of it. I love helping animals as well as being here for the owners. I do my very best to make each person who walks through our doors feel as if they came to visit family. I'm always a text/call/or email away to help where it's needed.
In my free time, I enjoy spending time with my husband and kids and love to see my grandsons. I also enjoy fishing (although I don't eat the fish) and camping as well as cooking and being surrounded by my family and friends. My perfect day would be family/friends enjoying the sun on a lake or riverbank making memories that last a lifetime.
Erin LeDoux
Receptionist
My name is Erin, I have been a veterinary technician for over 14 years.I received my degree in animal science and have worked in emergency and specialty surgery for many years. I enjoy spending time with my 2 young boys in my free time. I am obsessed with the color purple and The Nightmare Before Christmas. I love to make people laugh and brighten their day in whatever way I can.